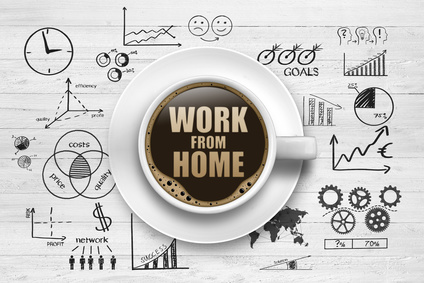 Lunch with friends, frequent coffee breaks and easy living are things that come up only when you are working from home. It's just like a dream come true for a person who wanted to enjoy life completely. Having a cup of coffee from your own coffee maker simply boasts your energy levels.
Working at home has many advantages but it has a simple rule that states that "no work equals no money". Working at home doesn't mean that you have to enjoy your time only but you have to work also if you want to earn an income at the end.
You have to put some extra efforts into your work so that you can establish yourself as an expert. Working from home is exciting and yes it's true that you may get lazy or flexible but if you don't work hard or market your skills then it would be very difficult for you to get stability in your life.
When you wanted to take a holiday you can easily do that, if you wanted to set a higher income level then you can also achieve that but the key is only the hard working and goal focused people will achieve success in this field.
The ability to generate income while working at home is very exciting and attractive.
Many people are giving their resignations to their current jobs just because they aspire to work from home. The luxurious and flexible life is simply too attracting them.
There are number of reasons which make working at home more attractive. These reasons are simply arousing the urges of people to enjoy their lives completely.
While working at home, you can easily setup your schedule and can perform your tasks as and when you please;
You can easily eliminate your overhead expenses and increase your income levels;
The flexibility level that you enjoy while working at home is un-comparable;
Working at home always gives you a feeling of freedom which everyone wants to enjoy.
Paying daily expenses, meeting deadlines, taxes and other responsibilities are forcing individuals to take up working from home, and by doing so, eliminating these responsibilities dramatically. People are creating several business ideas so that they can work at home and can get rid of many daily life problems. So, people are finding optimal solutions to generate income by different means while working at home at their regular 9 to 5 timings.
These reasons have enough weight to convince someone to strongly consider a home based business.  Along with this, the flexibility of lifestyle that one enjoys and the income level that can be drawn in are simply pulling individuals to seriously consider this option.
The income that is earned from working at home can easily be comparable with any corporate sector salary. As the income is based upon the skills and personal abilities of yourself, you can earn as much as you want to.
Normally, to get a big enough raise in your income either you have to start your own business or you may have to make a cut upon your monthly expenses.
Saving money for people who are working at home is much easier compared to other people. They are used to working in these economic conditions so they can easily save money in any kind of situation.
To fulfill your dreams and to achieve your goals, working at home is the best way to go. Normally an ambitious individual chooses this option so that high career objectives can be achieved.
The only thing is that you have to choose the right business as per your skills and capabilities. After selection of your business, simply market your abilities and earn a handsome income for years and years to come.
If you have any questions or are considering working from home, I would love to hear your feedback below.  Or click here to GET STARTED